On stage, Kevin Camia is a mellow comedian. He is not the type of guy who needs to jump around and yells to be funny. Constantly writing, Camia is the type of person who can crank out new material every month. I finally got the chance to listen to Camia's new album, Kindness, and it was awesome!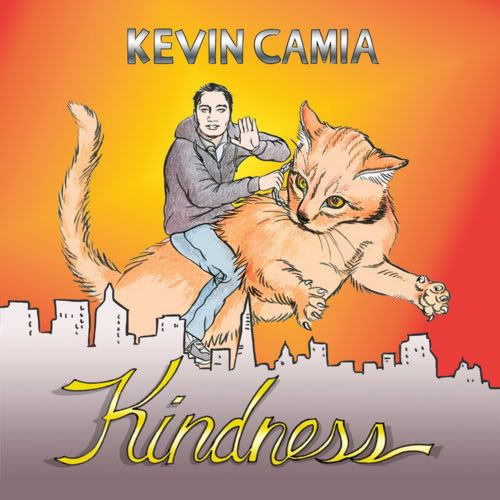 First off, let me just say the album cover is badass! It's a picture of Camia waving to you, while riding a giant kitten across San Francisco. It's such a deceptively absurd ideal but captures Camia's character perfectly. The album is lace with dirty jokes and adult content but is covered up with endearing symbols like Caima breaking the fourth wall waving, the giant kitten, and the warm color tones. The cover is a perfect representation of his stage persona- an unsuspecting, friendly, nice guy with filthy material - very cool! Aiyana Udesen, who uses to work at the San Francisco Punchline, created the album cover. Check out more of her work here:
Also I would like to give a huge shout out to Rooftopcomedy for producing the album. You guys are the best.
I've known Camia for years; in fact he was one of the first Asian American comedian I'd met on the scene. Camia is a gentle soul and it's easy to forgive him - mainly because he's so damn likeable. For example, the joke about his gay cousin where his cousin ask him when he knew he was straight, Camia replied,
"I think the first time I realizes I was straight was when I watch Alyssa Milano on Who's The Boss. But really that's not when I found out I was straight it was when I found out I liked little girls."
If anyone else told this joke people would be so offended, they would walk out the show. However, since Camia said the joke, we can all laugh because we know he would never have sex with little girls.... I hope.
The joke works because of the misdirection; when Camia said he likes Alyssa Milano, it gives the audience a chance to cheer and agree with Camia. However, when he fellows it with the punch line, "that's when I found out I liked little girls," the crowed is put in an awkward position because they just cheered and agree with Camia's pedophilia. The joke is a joke on the audience and other comedians can appreciate it because he's fucking with the crowd.
I recently had the privilege of opening for Camia at the San Francisco PunchLine. He gross out the entire audience and was the highlight of the show. I've always thought Camia was funny but recently he has been on fire! Please check out his tour dates when you get the chance.
Here is a link where you can purchase his CD
http://shop.rooftopcomedy.com/p-155-kevin-camia-kindness.aspx
TOUR DATES -
Check out the new Tour Dates Video and come to the shows people!